On July 11, 1996, the Lake Survey crew covered a total of 7.0 km2 (2.7 mi2) in Shelburne Bay and located three wrecks. One of the wrecks was located in deep water in the area where the tugboat U.S. La Vallee was reportedly sunk in 1931. Later in July, a dive team verified that this shipwreck was indeed that of U.S. La Vallee. The vessel was found sitting intact and upright on the bottom in excellent condition. The wheelhouse with its curved windows lies in pieces, almost as if it had been blown outward. Trapped air may have torn apart the vessel's wheelhouse in a violent explosion during the vessel's sinking.
Lake Champlain's hardworking commercial vessels rarely received public notice while performing their important but unglamorous duties. This situation was true of Henry Lloyd/U.S. La Vallee. The vessel's only public recognition arrives now, when the boat is a submerged wreck, not during the its half-century working career, which ended nearly seventy years ago.
Although no logbooks or other daily records of U.S. La Vallee's career have come to light, a fairly complete record of the tug's service has been preserved in its enrollment papers and licenses. A search of the Champlain Canal lock-keepers' logbooks would probably reveal much about the daily movements of the vessel. A number of photographs have also been located that depict the tug at various times and places during its career. More importantly, we are fortunate to have some personal recollections of the tug by mariners who participated in the twentieth-century maritime history of Lake Champlain.
The importance of this wreck can not be overemphasized. U.S. La Vallee is one of very few steamboat wrecks in Lake Champlain that still have an engine and other machinery on board. The tug's excellent condition, except for the wheelhouse, presents a unique opportunity for archaeologists to document the construction and design of the vessel in detail. The site is expected to provide a wealth of information on small latter-nineteenth-century steamboat technology. In a sense, U.S. La Vallee's story is just beginning, as archaeologists and historians start to document and preserve the tug for perhaps the most important chapter of the vessel's history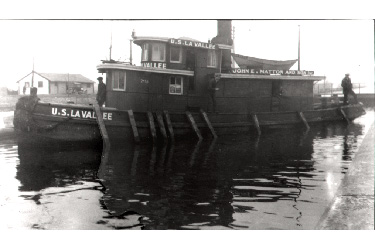 Features of Interest 
Size of Wreck: 56' long, 12' beam
Smoke stack collapsed to port side
Remnants of broken upper wheelhouse scattered on deck
Ships Wheel
Steam engine visible through door on starboard side
Vessel name on stern
Diving Guidelines 
Experience Level: Advanced
Depth of Water: 100'
Low year around water temperatures at this depth
Underwater lights are necessary
Closely monitor bottom time and air consumption
Do NOT touch or impact vessel structure or artifacts
Location
44 26' 28.38"N, 73 14' 12.598"W
At the mouth of Shelburne Bay