The Lake Champlain Transportation Company is offering to donate the soon to be retired Ferry Adirondack for the creation of a new Lake Champlain Underwater Historic Preserve dive site. The Adirondack, built in 1913, is the oldest continuously operating double ended ferry in the U.S.  The Ferry has been a fixture on the Lake Champlain Transportation Company's Burlington to Port Kent crossing for 65 years, since having started service here in 1954. During this time Adirondack has transported thousands of passengers and vehicles across one of the Champlain Valley's most scenic lake crossings. 
The Ferry Adirondack Project is an opportunity to preserve this piece of Lake Champlain history by sinking the vessel in the Lake and adding it, as a site, to the existing Lake Champlain Underwater Historic Preserve (UHP). The Underwater Historic Preserve system was created in 1985 and currently includes ten historic vessels. It is one of the first and best regarded preserve systems in the country and is overseen by the Vermont Division for Historic Preservation. The M/V Adirondack would be the eleventh vessel in the Preserve and ownership would transfer from the Lake Champlain Transportation Company to the State of Vermont upon sinking.  The UHP System benefits the public by protecting historic vessels while providing public access for both recreational divers and the general public through the use of Remotely Operated Vehicles (ROVs).  It may seem counterintuitive to preserve a vessel by sinking it, but Lake Champlain's cold fresh water will preserve the vessel's structure for many years so that it can continue to be interpreted and appreciated in the Champlain Valley. In addition to preserving history, the Ferry Adirondack Project will help provide an economic stimulus to the Champlain Valley through increased diver visitation to the UHP from around the country.  By adding the Ferry Adirondack to the Lake Champlain Underwater Historic Preserve, this significant piece of maritime history will be preserved, protected and enjoyed by the public for many years to come. 
A public meeting regarding the proposed reefing of the M/V Adirondack was held on Thursday, March 5, 2020 from 7pm - 8:30pm at the Burlington Police Department Community Room, 1 North Avenue, in Burlington.
For more information, please see our FAQ here.
For supporting documentation, please see the appendices here.
We welcome your comments and questions as your feedback is very important to us as the proposed project is reviewed. Please visit our survey here.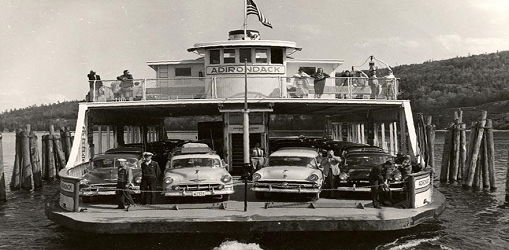 M/V Adirondack approaching the dock in Port Kent. Mid 1950s
Proposed Location:
73 14'52.1" W, 44 28'49.1" N